Photo by Nick Spennato.
By Nick Spennato
Reviews Editor
Maybe tracking is the wrong word for it. Maybe stumbling across would be better suited to the situation, or finding by virtue of happenstance. Regardless, here's what happened. Class had just ended and I was making my way across campus to the metered lot I'd decided to park at. Inside the parking lot was my car. Under my windshield wiper was a slip of paper. My day had been going well so far, and if my luck had held out that piece of paper would have been a take-out menu or another Bible Tract for my collection.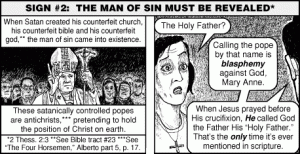 Of course it wasn't. What I found was several degrees of magnitude both better and worse than an offer of free delivery for orders over $10. Left under my windshield wiper was a note, handwritten, informing me that not only had my car been hit but that this mystery samaritan had gotten the plate number and a picture of the perpetrator as they fled the scene. I looked over my car and lo and behold, someone had managed to tear up both doors on the passenger side without disrupting the car in the slightest.
Naturally, I needed some time to process this information, having just become the victim of a hit and run and having had the case solved for me immediately, so I did the rational thing. One Whopper Jr. and an order of Chicken Fries later my course of action was set. Someone, some asshole as the note declared, had wronged me, had impugned upon my honor and property without allowing me a chance for retribution, and so I resolved to find them and make them pay for their actions in the form of an insurance claim or cash settlement.
Paradigm Shift
So I'm out for blood. I want this person to suffer. I want this asshole and his terrible car to have their comeuppance, to know that everything they're getting is just and deserved. I want to kick them off the roof at the end of the movie and have the audience cheer for it. The next day I call campus security to let them know what happened, and decide to meet with them once I'm back on the grounds. I figure I should have as much information as I can and so I began texting the number from the note. Jen, a health-science student who's graduating this year, saw the collision, saw my car rocking in the aftermath and saw the offending party haul ass outta' there. She also happened to meet the young woman who hit my car after her class had ended and I had left to consult The King. Apparently my would be prey came back awhile later trying to make amends and left her number with Jen, who'd somehow been put in charge of an accident she was not involved in.
Well, great. The search was called off and I was free to deal with this person on my own, whatever that meant. This is actually the second accident I've ever been involved in in all my years of driving, the first being a few years back when some sort of extremist bird chose to end their life on my headlight. I figured the next step would be to exchange information, something I've heard adults say to each other on Law and Order, and so I called.
If you're in the market for an awkward conversation, try calling the person who hit your car and left, it's oodles of fun. So Ms. Hit and Run and Return gets on the line and to my chagrin they are nothing but polite and cordial. She's so sorry for what happened, she just sort of panicked, she shouldn't have done that, so on and so forth. She informs me that the insurance is through her dad and she'd rather not cause him any trouble, and so asks if we could do this in cash. Those whose expertise I've deferred to have already informed me that this isn't a fix for walking around money, more likely a couple grand, and so I tell her that she can wait for me to get an estimate before she decides but that in all likelihood she's going to have to go through insurance. It's amazing, in a single instant my good wholesome power fantasy has been flipped on its head. Suddenly I'm the villain, dragging someone down into the same bureaucratic mess I didn't want to deal with in the first place.
Weiner Touch
Outside of my quest for revenge there is another element to this story, one I had not foreseen. I've told this tale to maybe 16 people at time of writing. 10 of those 16 people had the same question, "This girl, the one who hit your car, she hot?" My answer, having never seen this person, is "Who gives a shit?" As far as I'm concerned this person is now sexless, a neuter, they exist in a part of my brain reserved for powerpoint presentations and insurance forms and other shit I have no desire to deal with. I just want my car fixed. I could care less about the scrape but the car is under lease and it needs to be fixed, and yet friends, classmates, a teacher and my own goddamn mother have asked this question.
"Mom, who gives a shit? We need to get the car fixed."
"You know, some things just have to take priority."
I've had so many enlightening conversations about this subject. My favorite, between me and some friends driving around one night,  basically devolved into this.
"Girl? Could get weiner touch."
"Hmm. Need car, though. Money."
"BUT, WEINER TOUCH."
"CAR, THOUGH."
I told another friend about this later, he was laughing at the absurdity of the conversation. I asked him what the first thing he thought of was when I told him the story and he just looked at the floor in shame.  People seem to be of the mindset that this is the perfect situation to meet my future wife so I'll have some clever anecdote to tell Alex Trebec when I'm introducing myself on Jeopardy. To me this situation reads as an opportunity to hold financial liability over someone's head for sexual favors.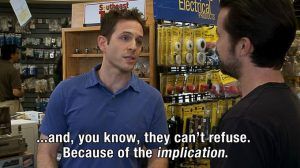 Maybe that's the cynic in me talking but it does seem kind of suspect, doesn't it? What was the first thing you thought of, Reader? Did it ever cross your mind what this person looks like? Do you wonder if we get married at the end?
Resolution
I'm disappointed and a little relieved. She decided to go through her insurance. An agent from Progressive called my phone, he told me his name on several occasions and it just never stuck which is a shame because this guy was awesome at his job. By the end of the conversation I felt as though he'd fixed the car himself and tucked me in for bed. The situation is being handled and here I am with no one to be mad at. This person who hit my car tried her best to make amends, the insurance agent gave me no problems and set me up at a body shop 15 minutes from my house, and now I can only muster up a mild annoyance at the whole thing. Who knows, maybe I'll get lucky and find a reason to be angry again.