By Zoya Navqi
Contributing Writer
Photo from The Suffolk Times
Let's face it. Stony Brook is not the liveliest campus in the world. Sometimes we just need to explore something new, but finding a fun place to hang can be hard. If you dorm and want to explore cool and exciting restaurants near campus, there are a few hidden gems that will make you forget all about the dining halls.
Robinson's Tea Room

(Stony Brook Village)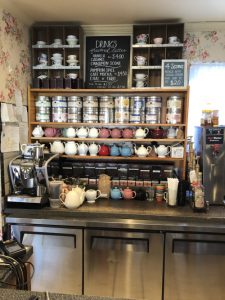 Photo from Things to do on Long Island on WordPress
This café is filled with vintage British charm. Whether you're looking to have a light breakfast, lunch or dinner, Robinson's Tea Room serves freshly baked scones and brewed tea in little teacups. The environment is amazing, the tea is great and the venue is definitely Instagram worthy. If you're looking for a quiet, calm place to catch up with a friend, Robinson's Tea Room is a fantastic place to check out.
Tiger Lily Cafe

(Port Jefferson)
Photo from the-ve-spot.com
Why just enjoy food when you can also enjoy art? Tiger Lily Cafe is one of the most beautifully decorated restaurants I've seen on Long Island. Each wall is filled with amazing and funky art. They serve great vegetarian and vegan food (the Lilly Veggie Burger and Sesame Tofu Cutlet Wrap are musts). They even have a juice bar where you can choose the fruits or vegetables of your choice. Now that it's spring don't forget to check out their outdoor seating arrangement.
3. Crazy Beans (Stony Brook)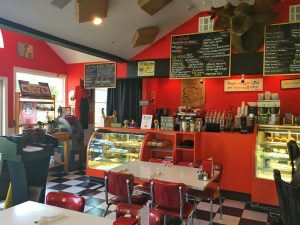 Photo from the Suffolk Times
Local residents Callie and Tim Brennan opened Crazy Beans in 2012, but it looks like it's from the 60s. This retro-vibed restaurant is the perfect place to get brunch. The black and white checkered floors, bright red booths, and vintage posters will make you go crazy for Crazy Beans.
Sweet 'n' Savory

(Port Jefferson)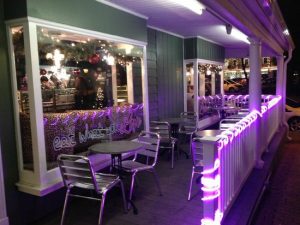 Photo from tripadvisor.com
Feel like indulging your sweet tooth? This bright and funky looking café will have your taste buds (and eyes) satisfied. Not only do they sell 45 different crepe flavors, but they also have a pudding bar. The leopard-print couches and black painted walls give the cafe a daring and edgy vibe, which is perfect for visiting after a day of boring classes.