Photos by Carrie Parker
By Carrie Parker
Contributing Writer

It was an event unlike any other previously held on Stony Brook campus. And for a number of students, "lit" was the only accurate term to describe it.
This past Saturday, hundreds of students flooded the SAC parking lot, which was seamlessly transformed into a non-stop-fun fairground known as Wolfieland. The carnival roared to life at 3 PM, and it didn't stop until well after dark.
The USG-sponsored event provided some much-needed fun for students.
"Classes are already busy, so this is a nice break," said Stephanie Yuvienco, a junior journalism major.
And fun was to be had. Just beyond the popcorn stand rose the iconic image of a Ferris wheel, lifting delighted students high above the tree line to catch a bird's-eye view of campus. Next was the midway, where games like "Hoop Shot" and "Deer Hunt" allowed players to kick, pump and throw to score tons of tickets. These tickets could be redeemed at the prize tent on the opposite side of the grounds for anything from stress balls and laptop decals to giant stuffed tigers and more.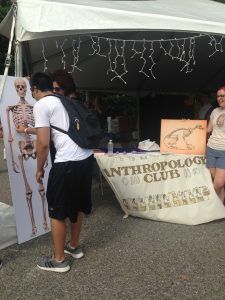 The prize tent also housed even more games hosted by various campus clubs organizations. There was pin-the-bone-on-the-skeleton by the Anthropology Club, a bean bag toss by the Latin American Student Organization, and mini quidditch put on by Dumbledore's Army. You could also catch Pi Kappa Phi President Charlie Bendernagel and his brothers peddling non-stop in a Bike-A-Thon to raise money for the Ability Experience, a non-profit philanthropy group that helps differently-abled students in numerous ways.
Despite the heavy heat and humidity, lines only grew as the day went on. No one seemed to mind the wait too much, especially with the get-hyped music pulsing from the DJ tent. Ardit Piroli, a senior psychology and information systems double major, said it was his first time DJ-ing. No one would have guessed it with the way his music set (whose genre he described as "lit") kept students energized for six straight hours.
Rides are what define a carnival, and Wolfieland did not disappoint. Between the mechanical bull, bumper cars, and inflatable obstacle course, it was hard to tell which was the most popular.
Emerging from the Gravitron 2000, junior Veronica Fox exclaimed, "I feel like all my organs are being sucked out of my body." Her friend, senior Katherine Kurre, agreed. "It's like my face was just peeling off."
Mei-Ling, a senior psychology major, hit up the Ferris wheel, Scat (a centrifugal contraption of cages), and Sea Ray, a gut-lurching mega swing that was her favorite. "The carnival? It's lit," she said, before running off with friends.
Wolfieland even featured campus performance groups such as Deja Vu Dance Troupe and Cadence Step Team. Both dance groups executed tight and powerful routines.
Jaliel Amador, Vice President of Student Life, took a brief break from running around Wolfieland, ensuring his vision was humming along without a hitch, to shed light on how he got the idea for the event. Soon after his election to USG, Amador said a previous USG member advised him to bring to Stony Brook something similar to SUNY Binghamton's annual carnival.
"I knew I needed to make it happen," Amador explained.
Planning began at the beginning of the summer. "I was asking myself, What resources do I have? What can I realistically do," Amador said.
The hardest part of putting on an event like Wolfieland? According to Amador it was "picking out the prizes! I felt like a little kid - I wanted everything!"
Timothy R. Ecklund, Dean of Students and Vice President for Student Affairs, stopped by to add his take: "The hardest part was probably getting everyone to see his vision."
But there is no doubt on Saturday that everyone was seeing that vision - and loving it.