Photo from d2rormqr1qwzpz.cloudfront.net
By Andy Liang
Contributing Writer
After a development period that cost billions of dollars, required thousands of engineers and took almost three years, NVIDIA Corporation, an American technology corporation, has finally released its new GPU (graphics processing unit) architecture: Pascal.
Like Samsung and Apple for phones, NVIDIA and AMD (Advanced Micro Devices) have been the two giants in the GPU world for the past decade. Through each subsequent generation, NVIDIA's GeForce GPU and AMD's Radeon GPU have had similar technical specifications and processing power, but with the release of its new microarchitecture, NVIDIA may finally be taking the lead in the competition.
Codenamed Pascal after Blaise Pascal, a 17th century French mathematician, NVIDIA's Pascal architecture is the successor to its Maxwell architecture, which was used in its GTX 9-series and Titan X graphics card. When the Titan X was released in March 2015, it was quickly hailed as the "King of Graphics." However, with the release of the GTX 1080 utilizing Pascal architecture, the Titan X will soon lose that title.
What is so special about Pascal? Well on May 6, 2016, NVIDIA's CEO, Jen Hsun Huang, hosted a special event presenting the five "marvels of Pascal."
One and Two: Architecture and 16 Nanometer FinFET
Due to Pascal's more advanced architecture, NVIDIA claims GPUs using it can be up to ten times faster than GPUs using Maxwell. NVIDIA's FinFET process allows the transistors to be placed 16 nm from each other rather than the previous generation's 28nm. This allowed NVIDIA to fit up to 150 billion transistors on the Pascal chip, allowing dramatically increased graphics processing power.
Three: G5X
Pascal's will be using Micron Technology's G5X memory. The speed of this memory is accurately described by CEO Huang who said at the Pascal event:
"Each one of those signals are only a hundred picoseconds wide. One hundred picoseconds is how long it takes light to travel one inch. In that little bit of time, our engineers have to make sure data is transferred."
Four and Five: Craftsmanship and New Technology
NVIDIA's engineers were able to optimize on the already energy efficient Maxwell technology. The direct current range between the highest peak and lowest of Pascal GPUs are 120 mV while Maxell GPUs are 209 mV. This seemingly small increase in energy efficiency allows Pascal GPUs to be up to three times more efficient than Maxwell. Paired with new technology such as CoWoS, a new memory design, and NVLink, a faster connection between the computer processor and the graphics processor, Pascal GPUs have the potential to perform twice as well as Maxwell chips. CEO Huang claimed that the GTX 1080 was not only faster than the Titan X, but also faster than 980 SLI which is the connection of two GTX 980s to increase their processing power.
With the huge increase in performance and efficiency, many consumers were expecting a high price point. However, at the Pascal event, CEO Huang revealed that the founder's kit for the GeForce GTX 1080 graphics card was to be $699. Definitely not cheap, but much less expensive than the $1200 price point of the Titan X and the $900 for two GTX 980 cards.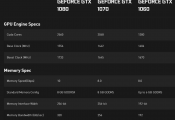 Some people may be wondering about how Pascal would be changing in the world of laptops. Laptop GPUs were always known to be much weaker than desktop GPUs, but with Pascal that's not the case. NVIDIA claims that Pascal would allow laptop graphics cards to be within 10% the performance of their desktop counterparts.
However, with this increased performance, there is a compromise: heat. Pascal GPUs operate at a higher thermal design power (TDP) than Maxwell due to their higher processing power. Laptops such as the Razer Blade, which previously used the GTX 970m, are forced to use the 1060 card instead of the 1070 due to its thin chassis's inability to dissipate enough heat. This issue is the reason Apple and its MacBook series continue to use AMD's lower TDP GPUs.
Even after the release of Pascal, NVIDIA continues to advance their technology with the release of an upgraded Titan X utilizing Pascal architecture, a new line of GPUs called the Quadro, and even a supercomputer in a box called the DGX-1. Gamers, visual reality developers, and graphics engineers all have much to look forward to from NVIDIA for the future of graphics. There have even been rumors that NVIDIA already started working on Pascal's successor.
Codename Volta.