Photo from Nintendo
By Stephen Infantolino
Staff Writer
Nintendo is known for their iconic franchises—Mario, Zelda and Pokémon are just a few that pop into mind. Some of Nintendo's franchises have fallen to the wayside over the years, and never had a new game. Star Fox used to be one of those franchises, but now we have two completely different new titles.
Star Fox Guard is a tower defense game that was co-developed between Nintendo and Platinum Games for the Wii U. The game was included with physical copies of Star Fox Zero, but was also made available for download off the Nintendo E-shop for $15.
Star Fox Guard was announced alongside Star Fox Zero at E3 2014. However, back then the game was under the title "Project Guard." Guard wasn't originally tied with the Star Fox franchise and was mostly just a tech demo. Project Guard was officially rebranded as Star Fox Guard during a Nintendo Direct presentation on March 3, 2016, just one month before Star Fox's launch. Footage below is from when the game was known as Project Guard.
In Star Fox Guard, you play as a new hire at Grippy Toad's Mining Company with the duty of defending his mining operation from attacking robots. Grippy is the uncle of Slippy Toad, one of the main characters on the Star Fox team. The rest of the Star Fox Team including Fox, Falco and Peppy make a cameo appearance in Guard.
The game features 100 different missions, includes an editor mode that allows players to edit the behavior of the enemies in every single level and allows you to share them with your friends over the Nintendo Network.
The main goal is to defend the mining operations' bases on several different planets across the Lylat System. Robots come in and attack the base, aiming for its core. The player can adjust the placement of cameras, which not only act as your way of looking around the base, but also your means of defense.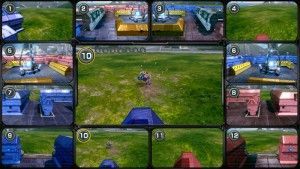 Simply moving the left control stick around moves your camera, and pressing any other button fires your weapons. Tapping the camera numbers on the gamepad changes which main camera you are looking at and controlling on the TV screen. These controls are very simple, and are very easy to pick up, unlike its companion game.
There are two types of robots that will be attacking your bases. They are the Combat class and the Chaos class robots. The Combat class robots are the ones that aim to take down your base. They go right for your base's core. The Combat class robots are also the ones that count the most. Destroying all the robots from this class in a given level will cause the defense to be successful.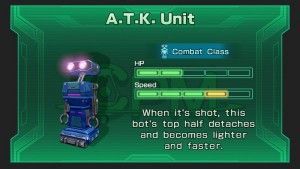 The Chaos class robots' goal is to not attack the base, but your cameras. All these robots do are jam camera feeds, and can even completely destroy cameras. They make it easier for the Combat class robots to get deeper into your base, and make that defense much harder for the player. You can complete levels without destroying all of the Chaos class robots.
After completing a level, all the metal from the defeated robots is collected. This metal is used to not only increase your in game rank, but the metal can also be used to purchase new camera that can do different things. For example, there is a camera that can temporarily freeze invading robots.
Graphics-wise, Star Fox Guard takes the same art style from Star Fox Zero. Everything is well polished and looks great. The robots themselves are really goofy looking, and stand out a bit from the regular Star Fox enemy roster. This however isn't detracting as it still feels like they belong in a Star Fox game, just on a much smaller scale.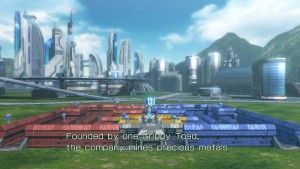 Story-wise is where Guard completely drops the ball. It's evident that this game wasn't supposed to be a Star Fox game from the start. The story basically states that during the Lylat Wars, which is the main focus of Star Fox Zero, a small up-and-coming mining company started doing a lot of business… and that's pretty much all you get. It's not great, but you don't really expect much from a simple tower defense game.
Overall, Star Fox Guard is an excellent tower defense game. It incorporates the Wii U gamepad well without making it seem like it's forced onto the player. What truly makes Star Fox Guard great is its price. For $15, you get a game with a great amount of content and customization. If you did purchase the physical copy of Star Fox Zero, Guard is completely free, so it's really hard to not suggest giving Guard a try, especially if you're a huge fan of Star Fox.