Students from the Stony Brook University School of Journalism celebrate at the school's commencement on May 20, 2016. Photo by Kayla Shults.
By Kayla Shults
Executive Editor
Nearly 7,000 degrees, ranging from bachelor's to MD and DDS, were awarded at Stony Brook University's 56th Commencement held on May 20, 2016.
In addition to those degrees, former US Attorney General Eric Holder and broadcast journalist Soledad O'Brien were awarded honorary degrees for the work in their respective fields.
Holder told Stony Brook graduates that the campus itself was what made him so interested in coming to speak, along with the fact that he applied to the university after his high school graduation in 1969. He said that the biggest social issue that today's college graduates will face is the country's changing demographics. "This country is going to be a fundamentally different one by the year 2050, maybe even 2040," Holder said. "Where we see greater numbers of people of color who will actually be in the majority. Diversity is something that I think can be a source of strength for this nation if it is managed well."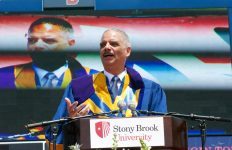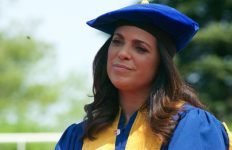 O'Brien, who grew up just miles away from Stony Brook University in St. James, NY, told her parents story and struggles as an interracial couple in the late 1950's. And while she did not want to give advice to the graduates,  saying that they might not listen to it anyway, she did tell them what they should work towards as they enter the real world. "We're much more alike than we are different," she said. "You need to break through walls between people who don't look the same and don't act the same."
Student speaker Danielle Meyers was recognized for her achievements, starting as a child in Harlem who made her way through the foster system and graduated with her bachelor's degree in social work. Her poem, "Freshman State of Mind," recounted how her thought process had changed throughout her time as a student at Stony Brook and had students throughout the crowd cheering in agreement throughout.
Congrats to the Class of 2016, and good luck in all of your future endeavors!