Photo by Katie Lehman
By Elsie Boskamp
Contributing Writer
At nine years old all she wanted to do was run around outside and play with her friends.  She wanted to do what everyone else was doing, but she wasn't like everyone else.  At nine years old she realized why she was different.
Instead of wearing a backpack and overalls, Katie Lehman was dressed in a hospital gown.  Her bright blonde hair fell over her shoulders and tears fell from her eyes.  She sat on a bed in a tiny white room at Long Island Jewish Hospital in New Hyde Park – she didn't know it then, but this hospital would soon become her second home.
Her mother, Mary Kearns, always at her side, squeezed her hand and kissed her goodbye before the doctors came in and moved her into surgery. Katie was scared, but she was also strong.  Katie knew she had to be.
It was her first hospitalization.  Her first, of many, sinus surgeries.  Cystic Fibrosis had delivered its first punch, and she was fighting back.  But, at only nine years old, she didn't know what she was in for.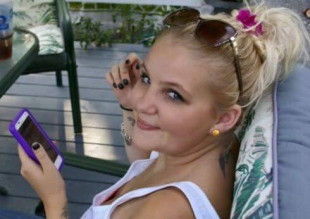 "I remember thinking I have never seen so much blood or been in so much pain in my life," she said.  Now, she's crouched in the corner of her bed in the cozy yellow home in Westhampton Beach where she lives with her mother, grandmother and sisters.  The boxes of medicine and medical supplies that surround her petite figure are overwhelming, but she isn't fazed – this is her life.
She looks up at her faded white wall and smiles.  In cursive purple letters she has painted the words "Just Breathe."
These are the words that drive her life and keep her hoping.  These are the words she says to herself every day.  These are the words that are tattooed in curvy grey print on her wrist.
Just breathe.
Saying it is simple, but doing it is difficult.  And, the reality is that just breathing has never been an easy task for Katie Lehman.
Cystic Fibrosis, a life-threatening genetic disease that targets the lungs and digestive system, consumes her life.  She was diagnosed with the rare disorder in 1990 at just six months old, joining the estimated 30,000 people in the United States living with the disease.  The life expectancy for patients diagnosed at that time was less than 20 years, but modern medicine made the impossible possible again.
Now, at 25 years old, Katie is still fighting.
*   *   *
It's a brisk spring day and the sun is shining on Katie's creamy white skin through her foggy second story window.  Katie wishes she could be outside. But she can't.
She's hooked up to an IV.  Her immune system is weak, and, on top of her regular breathing problems, she has pneumonia.
"When I'm on IV antibiotics I have to take up to three different medications three times a day, so I pretty much have no time when I'm not connected and being pumped with fluids that are making me feel sicker than I already am."
Days like these are hard.  It's even worse when these hard days turn into weeks, and even months.  It's at these times when the only soundtrack playing is constant coughing and the rattling of prescription pills pouring into her hand.
On an average day, Katie takes 16 pills before getting out of bed. Then come different nebulizers and a therapy vest that helps clear out the mucus stuck in her lungs.  Every time she eats she takes digestive enzymes.  She wears an insulin pump on her hip due to the diabetes she developed from her disease when she was 16, and she regularly takes medicine for depression and anxiety.
Most of her time is spent in waiting rooms and doctors' offices.  That's just the way it is.
Lately, her hospital trips have become more and more common.
The past three years have been rough.  Three surgeries and a port-a-cath insertion.  The port, a permanent device that allows for immediate access to the bloodstream, was the obvious next step when doctors concluded there was too much scarring in her arms to continue with PICC lines.  She had at least 20 PICC lines, where a catheter is inserted into the upper arm and threaded into a vein near the heart, before her body started to reject them.  Now, the port is permanently stitched under a circle of pink skin on the right side of her chest, just beneath the scoop of her white tank top.  It makes things easier, but when it comes to Cystic Fibrosis, and treating this incurable disease, nothing is ever really easy.
There are good times and bad.  The best times are when she doesn't think about anything.  The times when she can pretend she's normal and try to forget about being sick.
Now, as the IV sitting beside her continues its work, she snuggles up with her family's playful pit bull, Putty, and closes her eyes.
Suddenly it's sunny and she's outside on her hands and knees digging though the dirt and feeling its warmth.  "I really enjoy gardening," she says, remembering the summer. "It's really therapeutic to me."
She dreams on.  There's a small shovel in her gloved hand that pushes through the soil, making room for her flowers and vegetables.  The watering can next to her clatters as she picks it up from the paved pathway and delicately sprinkles its contents over the newly blooming bed.
A round of roaring coughing pulls her back into reality, and her dreams of past good days float away with every staggered breath she takes.
If her dreams came true, Katie wouldn't be here right now.  She would be healthy.  She would be in a hospital.  But not as a patient.
"I feel like it's just where I belong," she says.  "I would love to be a nurse and be there for kids who are terrified and lost in there, because I know how it feels."
In a perfect world she would be a nurse.  She would save lives and put smiles on the faces of sadness.  But, Katie has Cystic Fibrosis, and, if she were to pursue her dream it could be deadly – hospitals are breeding grounds for germs.
Instead of being angry about what she can't do, she's happy with what she has.
"I really never take anything for granted," she says.  "I appreciate the small things.  Sometimes I feel like I'm lucky because so many people just go through life never realizing how precious it is – but, I get to live like that every day.  I know how quickly things can take a turn and I cherish every moment."
Like, the moment one day last May when all eyes were on her at the Cystic Fibrosis Foundation Great Strides Walk.  She snapped the ribbon and signaled the start and hundreds of supporters began to walk.  They were walking to find a cure – raising funds to save lives like hers. Katie was there for everyone who couldn't be.  She was there for her friend, Katie Lucas, whose fight ended far too early.  She was there for her family.
And she was there for herself.
Her team, "For Katie," was a way for her family and friends to remind her that they were all there for her, and that they always would be.  It also was a way for her to stay connected with her dear friend, Katie Lucas, whose battle with Cystic Fibrosis ended in 2010 when she was 23.
She died waiting for a lung transplant that never came.
"I miss and think of her every single day, and will be walking in memory of her – as we do every year at the walk," Katie said.
Everyone was there to find a cure, because someone they love needs it.
Her friends and family wore matching pink, blue and purple tie-dyed shirts that they made the night before.  White words on each dyed tee read: "Peace. Love. Cure. For Katie."  And, on the back of Katie Lehman's there were angel wings that sparkled with every stride she took.
"They're for Katie," she said looking up and smiling as she thought of her friend.  Clear blue skies and sunny rays greeted her – Katie Lucas always gave them good weather, she explained.
The five-kilometer walk wrapped around the Village of Westhampton Beach, past the old movie theater and the town marina.  Katie took it step by step.  Breath by breath.
She crossed the finish line in a wagon, being pulled by friends and family.  That's just the way it was with them – they would do anything for Katie.
Her mom and sisters, Erin and Gaby, live each day wishing for another way.  Wishing they could take Katie's pain away.
Katie's father, George, was never especially close to her and a few years ago he disappeared from her life all together.  Now, he lives in Florida and calls to check in on occasion.  George will always be Katie's father, but the girls are her team – with a bond stronger than blood.  They always have been, and they always will be.
For them, tomorrow is never promised – happiness and faith are all that matters.
"It's difficult knowing that there is a possibility that one day I will have to live my life without her.  She's my best friend," Erin says, holding back tears.  "She is hands-down the most humble human being I've ever met, and she has taught me more about life than anything else on this planet.  She is truly a blessing to my family and I."
Katie's their blessing, and Cystic Fibrosis is their curse.
Through all of Katie's ups and downs – Mary, Erin and Gaby feel it all.  And, more than that, they feel the aching agony of knowing they can do nothing to stop Cystic Fibrosis or slow it down.
Every passing minute leads Katie closer to a day she fears more than anything else.  The day her doctor will sit her down, and say, "You need a lung transplant."
There's no easy way to say it, and there's no easy way to deal with it.  But, at some point, that day is going to come.  The transplant is a major surgery, and sometimes it doesn't work.  It doesn't cure Cystic Fibrosis – nothing does.  If it does work, it takes away some of the pain, but it also comes with other problems.
"If you don't get a transplant, you pretty much suffer and live your days out," Katie said.  "That scares me even more.  Not getting a transplant, and then just suffocating alive.  It's all very scary to think about."
Sickness is scary – Katie already knows this all too well.  Sometimes being scared is all she can think about, but above fear, she is brave.  She is strong because she has to be.
She'll get through her transplant the same way she got through her first surgery and the same way she gets through her life.  With support, strength and a smile.  And, in the end, if it all goes as planned, she'll be able to just breathe.
*   *   *
Katie's life never went as planned and she never got the lung transplant she so desperately needed.
On July 9, 2015 Katie celebrated her 26th birthday in a small white room at Long Island Jewish Hospital.  Her face was pale and her body frail but she smiled and made a wish.  Days later she was transferred to the Intensive Care Unit and put on life support.
Cystic Fibrosis had delivered its final punch.
Katie's family and friends prayed for a miracle as a team of doctors worked to save her life.  In the end, her organs failed.  And, just 20 days after her birthday – on July 29, 2015 – Katie died.
The miracle they all hoped for never came. But, for the first time, Katie Lehman was no longer suffering – no longer struggling to just breathe.