By Lauren Fetter
Staff Writer
As if you needed another reason to wish the semester was over, the Disney Channel announced this week that they will be running a four-day marathon of 51 Disney Channel Original Movies in honor of their 100th movie release this summer. Beginning on May 27, you can relive your childhood, even if just for a few days. Every day in June, the remaining 49 movies will air at various times, so do not fret if your favorites did not make the original list.
Let's be honest: I am probably too excited for this marathon. You can never have too many favorite DCOMs, can you? I have wracked my brain time and time again, but I finally did it. Here are 10 Disney Channel Original Movies, in no particular order, that you need to watch this Memorial Day weekend:
1. "Zenon: Girl of the 21st Century"
Zetus lapetus, this movie brings me back to the good old days of running around my house singing "Zoom, Zoom, Zoom" as a five-year-old. In this 1999 classic, we meet 13-year-old Zenon who must save her family's space station home from being destroyed after she is forced to live with her aunt on Earth. Move over, "Interstellar." We have found ourselves a real space movie.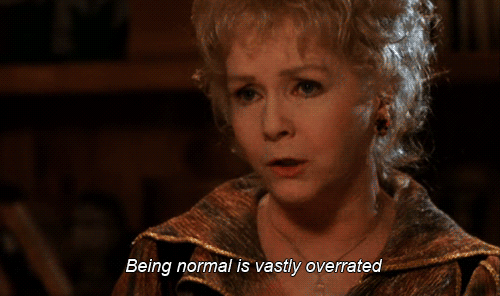 This movie literally gives me life. Halloween simply does not exist without "Halloweentown." There is nothing quite like finding out your grandma is a witch, especially when she lives in a town filled with magical creatures. Young Marnie and her siblings must go on a scavenger hunt to find all the ingredients needed to make a potion that will light the now-dark jack-o'lantern in the center of town and take down Calibar, the evil mayor, in order to save both their loved ones and the townspeople. Man, I wish I was a witch.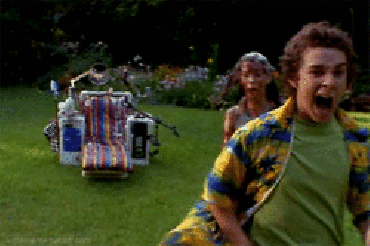 Here we have good, old Shia LeBeouf before he got super weird and watched all of his own movies in a theater as a form of art expression, or whatever he wants to call that spiral into the abyss. In this show-turned-movie, Louis Stevens and his family travel to an island on vacation, only to face nothing but misfortune. Ultimately, as the family begins to turn on one another, they find out that they are actually on a reality show and must figure out a way to end the madness. This movie actually ended up serving as the series finale, too. Although I am sad it had to end, at least it went out with a bang.
4. "Brink!"
Before Erik von Detten played Josh in "The Princess Diaries," he starred in this Disney Channel classic as in-line skater bro Andy, who decides to sell-out and join a sponsored skating team to make money for his financially-pressed family. However, he must keep his double life a secret from his friends or risk losing it all. If you did not have a crush on this 90's heartthrob, then you are lying to yourself. Plain and simple.
Ricky Ullman was probably the best thing to happen to the Disney Channel, to be quite honest. I loved him in "Phil of the Future," and you better believe I loved him here. Ullman plays a tech wizard who builds Loretta, a holographic singer, for his friend Samantha's struggling band. But things turn sour when Loretta becomes more popular than Sam, and she suspects Ullman of liking the hologram more than her. "You get to be the dreamer, but all I'll ever be is the dream." This one gets me every time.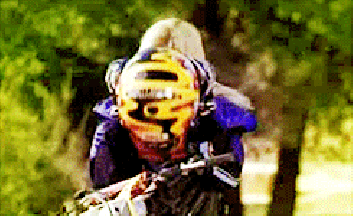 A little bit "Mulan," a little bit "She's the Man." This Disney movie shows that girls can be just as awesome, if not better, than men when it comes to sports. In "Motocrossed," Andrea Carson poses as her twin brother, Andrew, to compete in a motocross race after he breaks his leg. The problem? Andrea's overprotective father does not want her to compete in such a dangerous sport. But this movie proves that girls are tough, too.
This is probably the best DCOM of all time. Next to "Luck of the Irish," which also stars a young Ryan Merriman, "Smart House" is one of the most well-thought-out movies the company has produced. Ben Cooper and his family win a computerized house that takes on a life of its own. A house that does everything for you? Count me in! This movie gives me all the feels since Ben's mother passed away, and Pat, the house's computer, steps in to fill the role of mom. Let's not forget that great dance scene during Ben's house party. #Swoon
8. "Camp Rock"
This is hands-down one of the worst DCOMs ever made, but it is my guilty pleasure. I had an undying love for the Jonas Brothers from the time I was 13 until well…it never ended. The acting is terrible. The dancing is terrible. The music is terrible. But for some odd reason, it is one of my favorites. Demi Lovato and the JoBros have come a long way since this 2008 train wreck. But let's be real: You are lying to yourself if you say that you have never belted out the Final Jam Demi/Joe "This is Me" duet on your own with a hair brush and all the emotion you could muster. Been there, done that.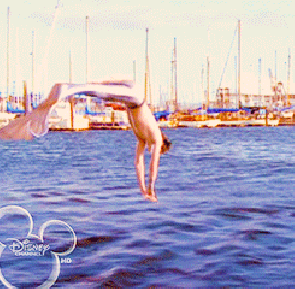 Mermaid? No. Merman. Cody turns 13-year-old and wakes up to find out he's grown gills and can literally swim like a fish. What a time to be alive… except Cody has to keep his new secret from his friends and rivals at school. To make matters worse, he finds out that his mother is a mermaid. Talk about a fishy situation. Yes, I went there.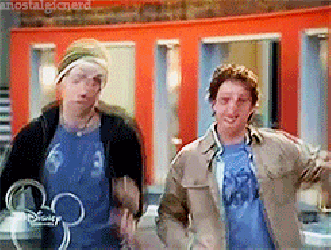 Taran Killam. Streaky, highlighted hair. Need I say more? Danielle Panabaker and Brenda Song are two best friends who accidentally swap phones with Killam's character, who just so happens to be a mega pop star shooting a music video in their town. The soundtrack is quality. The plot is great. What I would give to have my favorite musician come to Long Island and frolick with me.