Photo from Metro News UK
by Giovanni Ortiz
Blogs Editor
It is everyone's favorite not-so-holiday, Halloween. We all celebrate it differently. Some of us watch all the Halloweentown movies (besides the last one because that was disrespectful). Others trick-or-treat well into our twenties. And the last group, everyone's favorite group, goes to Halloween parties, which is cool until you run into the good ol' racist and culture appropriating costume.
They have a variety of faces from dressing up as your favorite Disney princess or female figure/Native American chief's daughter. Or even taking the everyday uniform and slutting it a little bit. It is all up to you! Until you run into the problem of just wearing another culture for a night.
That is cultural appropriation, girl. You need to chill.
Unfortunately, there is something even worse than the big C.A. phrase that is literally being thrown around left and right nowadays. It is blackface.
For all of you that may not know, "blackface" is a term used when a non-black (basically anyone white) person puts on dark makeup to emulate a black person. It is also called "brown-face" when it happens to a person of color that is not black.
Every year we have this conversation on all our social media platforms. Blackface is racist, and I am sick of white people and non-black people saying it is not.
This year's blackface accusation is when Lili Reinhart, the actress who plays Betty Cooper on "Riverdale," tweeted a picture of a woman painted literal black (like the actual color) and saying, "Found my Halloween costume!! Inspired by the color of my soul."
That was ruined when everyone's favorite spokesperson and black activist Perez Hilton decided to tweet saying, "For those curious, she was making a joke about blackface."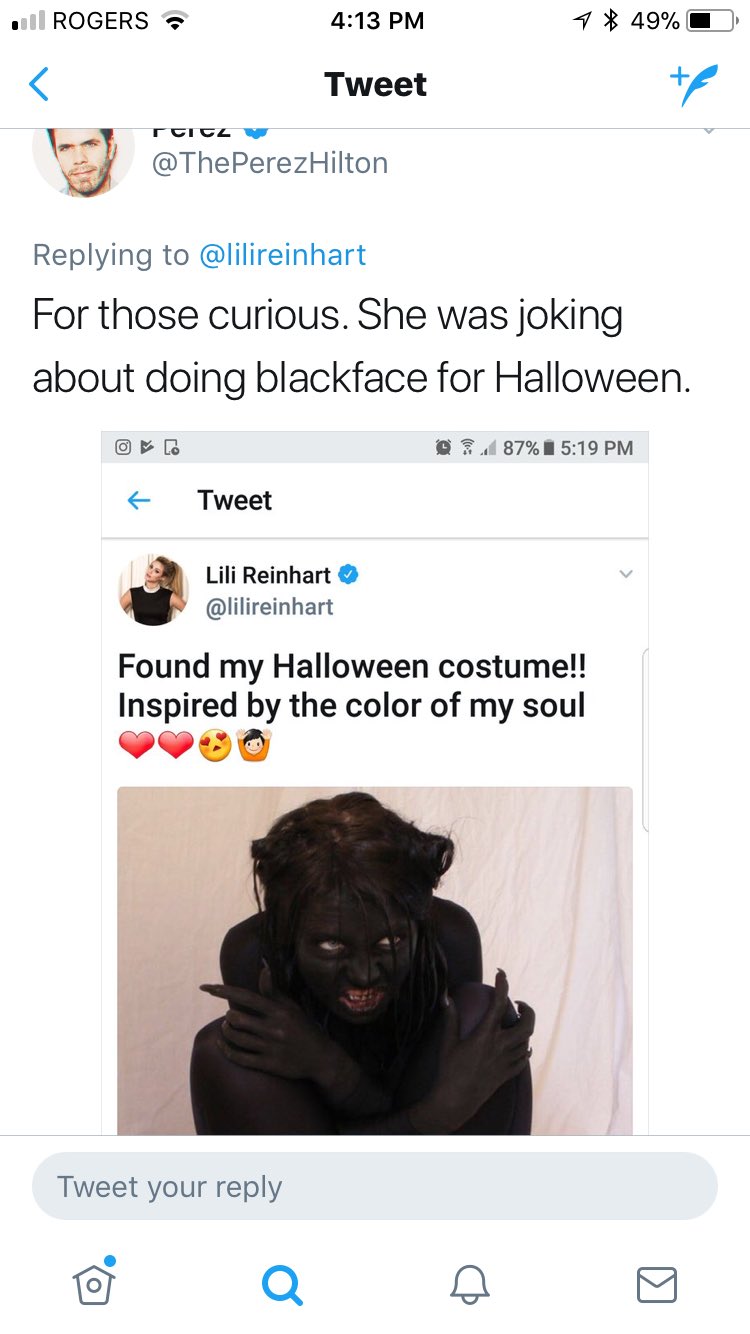 It was a demon– not a black person. Unless Mr. Hilton thinks our not-pitch-black skin is demonic.
Julianne Hough's attempt at being Crazy Eyes from Orange is the New Black is blackface.
It is still used in publishing. A lot of European magazines and fashion designers use the act of racism on their catwalks and in their magazines.
Vogue Italia and Numero, popular Euro magazines, have used it multiple times. Numero even used it while captioning the photo "African Queen" when they could have hired an actual African. So yes, it is quite annoying when someone wears it.
It has happened historically across all cultures. When black people were not allowed to be actors and be on stage, they put dark makeup on a white person and proceeded accordingly. This often portrayed a caricature of black people. Meaning, they basically made fun of us and promoted the stereotyping of black people.
It was the hot topic that opened up Netflix's hit show "Dear White People."
Blackface was seen all across in Latin America.
Here is some more knowledge: Latin Americans can be white. Spaniards were white, and groups of non-Spanish Europeans migrated to Latin America at some point in time.  Not everyone from Latin America is "mestizo" or mixed. You can be Puerto Rican and only be Spaniard with Jewish ancestry.
Latin Americans from all places can be very much as racist as white people from the United States.
So, the idea of blackface being huge in Peru at some point in time (the 1960s) is not a far-fetched idea. They even had a hard time of getting rid of their own "Coal Black" and mammy cartoons.
Is it not clear why black people not want white people putting dark makeup on because you wanted to be Beyoncé for Halloween.
Furthermore, when you dress up as a black celebrity and use dark makeup, you are saying that the only thing that makes them recognizable is their dark skin and not their talent. I am pretty sure if you found a curly golden-blonde wig (one that is not cornrows) and one of her iconic outfits, you will be fine.
Before you even think it: there is no such thing as whiteface. There is literally only one account of whiteface, and it was not even making fun of the non-existent thing of white culture. It was making fun of socialites such as Paris Hilton and Nicole Richie, who were really famous at the time.
Sidenote, before I get dragged in the comment section: the reason why white culture is not real is because white people can recall their ancestry, and embrace whatever specific European culture you derived from. Black people born in the Americas only had the choice of creating their own in their respective countries (which was robbed of them every time, but that is a different topic).
So, put down your best black friend's Fenty foundation in the shade 350, and stick to your own. It will be very appreciated.