Amy Schumer. Photo from Hollywoodlife.com
By Rawson Jahan
Contributing Writer
When Glamour magazine came out with its plus size issue earlier this month, Amy Schumer was not at all happy for the publicity.
The standup comedian and star of Comedy Central's "Inside Amy Schumer," criticized the magazine for using her name on its cover, under the words "Women Who Inspire Us." Schumer believed it was ethically wrong of the magazine to put her name next to plus size celebrities like Adele, Melissa McCarthy, and Ashley Graham without her permission.
She was so upset that she took a picture of the cover to Instagram. On her page, she wrote that there was "nothing wrong with being plus sized," and that plus size women were "beautiful healthy." But she also added, "Plus size is considered size 16 in America. I go between a size 6 and and 8."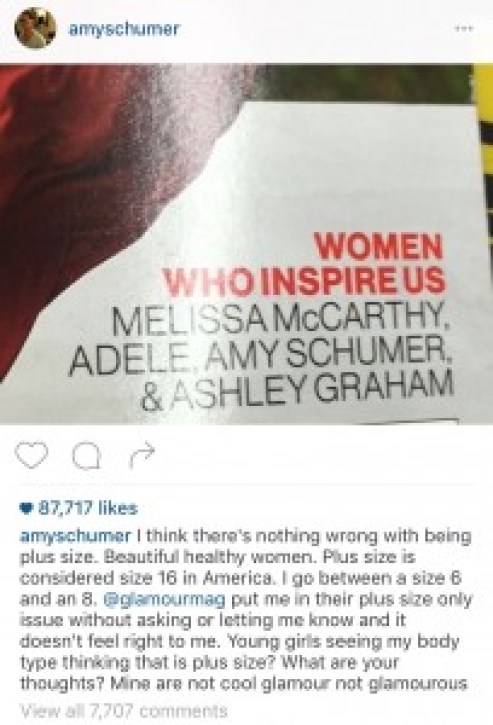 And while Schumer hit the nail in arguing that there is absolutely nothing wrong with being plus sized, (as there really isn't), she lost major brownie points and contradicted herself when she cried that she was far from plus sized.
The problem with this is, Schumer made it seem as if there was something so wrong with being plus sized and she had to inherently separate herself from the term. She had to affirm her size 6 to 8 so that no one could target her with the fat label, something that plus size women are so stereotypically categorized into.
But if Schumer is so body positive, a woman who is so seemingly confident that she can joke about her body and insecurities on "Ellen", why is she so upset for being categorized with other successful, beautiful, intelligent women? Especially when Glamour did not write that Schumer was "plus sized," but simply wrote that she was someone to look up to and someone to be inspired by.
And so even if it turns out that Glamour had its own secret agenda, and it was actually hinting that Schumer was plus sized, what is Schumer's excuse to critique the term, as if it is dehumanizing? By doing so, Schumer undermines the other talented women on the cover, McCarthy, Adele, and Graham, as if there's something wrong with their bodies.
To make matters worse, Schumer also wrote on her Instagram, "Young girls seeing my body type thinking that is plus size? What are your thoughts? Mine are not cool glamour not glamourous."
By writing, "not cool…not glamorous," Schumer has contradicted her previous statements that plus size is "beautiful," and plus size is something to be proud of. She is portraying herself as an utter and complete hypocrite. She has alienated young girls into believing that plus size is "not cool…not glamorous," instead of encouraging them to be comfortable in their own bodies regardless of size.
In the past Schumer has made rude and frightening comments, like, "I'm like 160 pounds right now, and I can catch a dick whenever I want."
Schumer, who has depicted herself as a spokeswoman for body positivity, is saying that despite her weight, she can catch a man. As if being overweight makes a woman less attractive, as if having a different body type outside the traditional conventions of "sexy" and "acceptable," make it difficult for a woman to catch a man's attention.
Schumer's comments are unjustified and hurt women of all sizes. Women should support each other, being accepting of the different sizes, shapes, and curves they all come in. Not, undermining a specific body type on social media.
Now if Schumer's comments were along the lines of that the media should not be associating plus size with unattractive or unhealthy, then matter would be entirely different. But Glamour did not call Schumer plus size. And while Glamour did feature the names of plus size women on its cover, it never associated them with being fat, ugly, or all the other insulting terms that it can be twisted into.
Glamour if anything praised Schumer as a strong and encouraging woman. But Schumer's comments reflected nothing of that nature. Schumer's comments showcase her insecurities with being labeled plus size.
Schumer has sent the message to her fans—she does not want to be associated with being plus size. She has taken away power from the body positive movement and has led other young women to believe that if they are over a certain size, they are less than.
What she should have done was humbly accept her feature, and in turn bring self-esteem to girls who are struggling with accepting their bodies and the curves they might or might not have.
Disclaimer: This is a blog post in which an opinion is established. We encourage our readers to reach their own conclusions based on reading several articles that support and refute an opinion. The opinions established in this article do not represent the beliefs or ideals held by the Stony Brook Independent.