By Joe Goncalves
Staff Writer
Hardcore Henry is a messy, violent, gory, slaughterhouse with a surprising amount of charm. Though the action film is ambitious in its perspective and a whole lot of fun, you might want to bring some Dramamine with you to the theatre.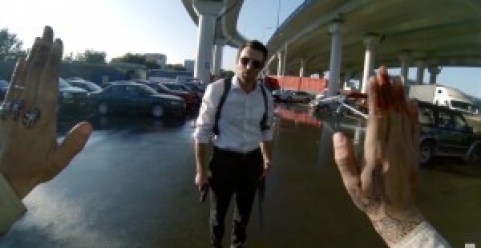 Hardcore Henry is the feature length debut of director Ilya Naishuller, who also produced the film and wrote it. The film features a fairly low key cast, but includes Sharlto Copley, known for his roles in District 9 and Chappie.
The movie premiered at the Toronto International Film Festival, where it became the focus of a bidding war between several companies and eventually was acquired by STX for domestic release.
What makes Hardcore Henry different from any other action film is one simple thing: perspective. Almost the entirety of the movie was shot with the GoPro Hero3 Black Edition camera, as can be seen from any trailers and promotional work. While the decision to film an entire feature length production from the perspective of a GoPro camera was bold and interesting, it does affect the film in a negative way at times.
The strange choice in perspective had a lot of sections that it worked in really well, and created some really engaging shots. Some scenes that stand out include a scene where the hero scales a building, and another where we get to look through the barrel of a sniper rifle as he mows down enemies
On the other hand the unorthodox camera choice doesn't always work. The biggest piece of advice I can give to anyone planning to see this movie is that if you have issues with motion sickness, bring some Dramamine and a bag; you're going to need it. The excessive camera shake during a lot of the high intensity action scenes becomes incredibly disorienting, especially when our hero is falling or tumbling around. The quick spinning and rolling camera can become a real problem during these scenes. I personally never suffer with motion sickness, and I found myself getting dizzy and a bit nauseous during some of the more intense scenes of the film.
Hardcore Henry knows exactly what it wants to be and doesn't apologize for it. The narrative isn't anything to write home about, but it's got a lot of charm in it's over the top action, violence and characters. It features your typical action movie tropes such as a super powerful and super rich villain (complete with heavy Russian accent), the damsel in distress motive, and a whole lot of gunplay and over the top set pieces.
Everything in the movie is hyperbolized, and while that can easily be very off putting, it was executed in a way that comes off as charming rather than corny. It doesn't take itself too seriously, and that's what audiences will find most lovable about the film.
One thing Hardcore Henry does extremely well is it's music, specifically using it's music to set a certain tone. Since we never see our protagonist's face throughout the entirety of the film, it becomes more difficult to present to the audience exactly what kind of emotions should be felt, and the makers of the film knew the perfect way to make up for that was with the music. The score sets up the emotional tone of every scene in just the right way.
The director has said that the perspective and style were heavily inspired by video games, specifically first person shooters and the attempts to capture that sort of intensity on film. This becomes very apparent while watching Hardcore Henry, as the director throws in quite a few video game easter eggs, and even during the last showdown of the film plays on the whole "final boss" logic that most video games use.
All in all Hardcore Henry is a high octane, testosterone driven, all around fun movie experience, as long as you don't have any issues with motion sickness. It was an innovative attempt by a young new director that definitely does what it set out to do.
Check the trailer below for a taste of the monster that is Hardcore Henry.