Grasshoppers Comics in Williston Park, Feb. 26, 2017 (Photo by Nick Spennato)
By Nick Spennato
Staff Writer 
Maybe it's the scent that does it.
In spite of online sellers like Amazon and services like Comixology that now sell digital editions of their stock, small, locally owned comic book shops are still holding their own and, in some ways, thriving.
Chris Cregeen, a 16-year veteran clerk at 4th World Comics in Smithtown, NY, said that his customers prefer the physicality and immediacy of buying in person to the clinical, impersonal experience of buying online.
"There's something about opening a comic, about smelling it, that people enjoy," Cregeen said.
The comic book industry has a long and storied history, with roots in the pulp magazines of the turn of the 20th century. It's undergone highs and lows from marketplace booms to congressional hearings. Today, the industry remains dominated by publishers Marvel and DC, the big two, alongside smaller, independent publishers such as Image and Dark Horse, all of whom are shipped exclusively by Diamond Comics Distributors.
 The past 15 years have not been the best for locally owned, brick-and-mortar retailers of all sorts, not just comic-book stores. There's been a decided increase in online sales, with over 40 percent of Americans shopping online every month, according to a Pew Research Center study. The proliferation of chain businesses has driven out out many independently owned shops, and new alternatives to physical media, in the form of digital downloads, are driving down sales.
And yet, there remain at least 15 locally owned comic book stores on Long Island alone, outnumbering even Barnes & Noble and other traditional booksellers.
According to comichron.com, a website that aggregates Diamond Comic Distributor's sales figures, 2014 sales to retailers totaled approximately $935 million. Of that, $100 million came from digital retailers. Another $285 million from what comichron.com refers to as the "book channel," sellers such as Barnes & Noble and Amazon, and $20 million came from newsstands. Independent comic book stores accounted for $350 million.
In 2015, total industry sales rose to over $1 billion, with digital sales hovering at around $90 million after hitting a high point of $100 million in 2014.
Part of the reason for this is innate in how the industry operates and how comic books are released. Each week a slate of new issues are released, the individually numbered 20 page works continuing the story from the previous issue. On the other hand are more long-form works like graphic novels, stories published in full without being broken up into issues, and trade paperbacks, collected editions of the individual issues.
While the large scale retailers of the "book channel" maintain a healthy advantage in the sales of long-form works, $284 million compared with $175 million at independent stores, the market for weeklies remains dominated by local stores.  Peter Gong, owner of Phoenix Comics and Collectibles in Hicksville, said that credit for customers returning week after week goes to the serialization of the genre.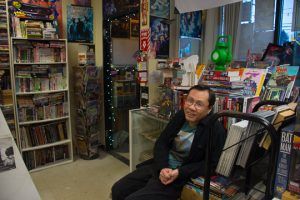 "Comic books are like soap operas, a new installment every two weeks or once a month," Gong said.  "People like to follow their stories."
Comic shops have other advantages that keep people coming through the door.
There's the bagged-and-boarded collectors market, so named for the practice of placing issues in plastic bags and on paper boards to keep them pristine. People who collect individual issues in the hopes of selling at a profit require physical, first-run copies.
There's also the complexity of Marvel and DC's 75 year history. Between crossovers of multiple books, reboots, relaunches and the sheer number of titles sharing a universe of continuity, the challenge of jumping into readership can seem insurmountable without the advice of someone who knows the ins and outs.
This isn't to say that operating a comic shop is a simple task. "Ordering comics on a weekly basis is like ordering vegetables," said John Riley, owner of Grasshoppers Comics in Williston Park.  New issues that aren't sold before the next round of comics are released are less and less likely to be sold as time goes on, meaning store owners may be forced to watch as their products spoil.
There are problems all comic book stores contend with, the weekly guessing game of what that their consumer base will actually wind up buying, the logistics of storing decades of what is essentially kindling on the off chance someone wants an Aquaman comic from the 1940s, to the simple fact that people don't, strictly speaking, need comics.
"We're dealing with entertainment. Luxury items, not essentials," Gong said. "But," he added, "there's more to life than just the essentials."