Photo from sg.asia-city.com
By Joe Goncalves
Staff Writer
The acoustic duo of This Wild Life has finally come out with their sophomore record, Low Tides. Though several songs were released by the band prior to the release, the album still had plenty of fresh material to bring to the table.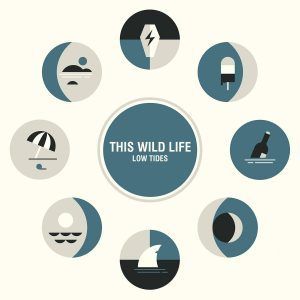 Low Tides seems to pick up where their first album, Clouded, left off. It's a continuation of their tried and true methods of catchy riffs and melodies, and the same lyrical charm that makes their music so endearing and relatable. Their foray into a more layered songwriting experience, adding electronics, ambient lead guitar and experimenting with other instruments to create a much larger scale of sound is where the group really flourished on this record.
The albums title track, "Hit the Reset," is the listeners "big toe in the water," so to speak, with this new sound. It doesn't change an incredible amount from what fans are used to, while still giving the listener a taste of what is to come on this beauty of a record.
Throughout the record we hear a revitalized This Wild Life, with Kevin Jordan's vocals and melodies sounding as clean and catchy as always. His vocals really shine on the tracks Pull Me Out, Fade and Brick Wall. The vibe for most of the songs stay pretty ambient and relaxed through most of the album, with Falling Down standing out as one of the more upbeat tracks, bringing a sort of pop vibe to the song in a way that doesn't feel like they're straying from their style too much. This record is a great example of how just a little bit of experimentation and polish, can make a band really shine.
This record might be the breakup album of the year. Anyone who's listened to the band's earlier releases knows that they love to write emotional breakup songs, and that certainly has not changed on this release. Some may find that so many lyrics about relationships and love becomes cheesy after a while, but This Wild Life does it in a way that stays relatable, endearing and clever. The song Red Room shows a really creative take on their lyrical content, playing out like a narrative rather than having a typical lyrical structure.
While the album does have a lot going for it, as with any record it's not quite perfect. There are times when listening to the record straight through that some songs may sound too similar for some listeners, and it's possible to see how some can find it bland at times. The lyrical content isn't for everybody either, but let me tell you if you're in a morose and emotional mood, this is certainly the record that should be playing.
All in all Low Tides is a beautiful follow up to a record that was very well received in the first place. When following up a record that has not only gotten a significant amount of praise, but had an immense role in jettisoning your career, a strong follow up is no simple task, and this record certainly delivers on the expectations.