Photo from modern-vinyl.com
By Joe Goncalves
Staff Writer
As musicians hone their craft, as time goes on, it is necessary for artists to change their sound in some way from record to record. If this experimentation and change is handled gracefully it can be a huge progression for the band, and The Word Alive's new album "Dark Matter" is the graceful and maturing step forward for the metalcore outfit.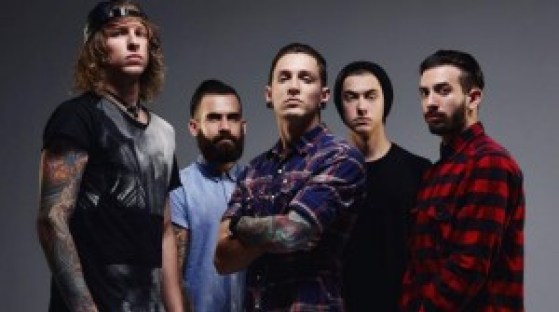 Dark Matter continues in a similar direction that their last record, "Real" got them started in. The group has decided to ditch some of the tropes of their metalcore brethren to approach a more lyrically driven, and cleaner sound. Lead vocalist Telle Smith doesn't scream nearly as much as he has on previous albums, and the group has deviated greatly from the typical breakdown centric song structure found in their past records. The album still has heavy sections, but it's handled in a more interesting and mature way.
Anyone looking for the heavier side of The Word Alive will enjoy the tracks, "Sellout" and "Dark Matter". Those looking for something refreshing and cleaner from the group should check out "Suffocating" and "Piece of Me", the latter featuring a wonderful guest vocal section from front woman of the band Beautiful Bodies, Alicia Solombrino. There are a few songs on the album that start to feel a bit cookie cutter in their song structure, but these deviations in the album help to break up the pace of the record in an excellent way.
Some of the most standout parts on the album are from the rhythm section, with more standout bass lines than most bands of the genre utilize, and the clean and subliminally technical drum work we've learned to expect from Luke Holland. If the drums and percussion are really the foundation of a song, then The Word Alive stands on solid ground. The group also expanded on some of what they experienced with on their last record, experimenting with more electronic segments and layered ambient sounds behind crisp guitar leads.
The production on this album sounds better than it ever has, and every member of the band shines on this release. The album is masterfully mixed, and none of the efforts made in the creation of this album were lost in the recording. It is also The Word Alive's most ambitious record in their experimentation with other layered instruments and vocal sections, and the refined production value is fitting with the refinement of their song writing structure and formula.
While "Dark Matter" might not be ground breaking or overly impressive, it's still a logical and beneficial step forward for a band in the prime of it's metamorphosis. The record has something for old fans and new, and is absolutely worth listening to.