Photo from Faith Globe / Flickr

By Kevin Matyi
Copy Editor
As Thanksgiving nears, both cooking masters and newcomers are figuring out what they will be preparing to celebrate the holiday, and how they can make enough to send the entire family in to a short-term food coma.
While each family has its various traditions about what dishes are served and how each is prepared, here are a few simple ideas to make and modify popular dishes without much work:
9. Mashed Potatoes
Ingredients Needed:
2 pounds baking potatoes
2 tablespoons butter
1 cup milk
To start, peel and quarter the potatoes.
Then, put them in boiling water for about 15 minutes on medium heat.
If desired, add garlic for flavor.
While the potatoes are boiling, heat a mixture of milk and butter until the butter melts.
Then use either a potato masher or electric blender to combine the potatoes and milk-butter mixture.
Add rosemary while mixing for extra flavor. Add salt and pepper as desired.
8. Gravy
Ingredients Needed:
1 tablespoon margarine
1/4 cup flour
3 cups vegetable broth
2 tablespoons miso paste
2 tablespoons water
2 teaspoons soy sauce
1/4 teaspoon onion powder
Start by combining the miso paste and water, then put the mixture aside.
Next, melt the margarine, and add flour.
Finally, add the miso mixture, vegetable broth, soy sauce and onion powder to the margarine mixture.
Continue cooking and stirring until thickened.
7. Cranberry Sauce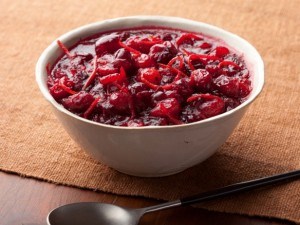 Photo from www.cookingchanneltv.com
Ingredients Needed:
16 ounces cranberries
1 orange
1/2 cup sugar
1/2 cup water
1 cinnamon stick
Zest and juice the orange.
Cook all of the ingredients (including orange zest and juice) together at medium heat for 15 to 20 minutes, until the cranberries begin to burst.
May add a 1/2 teaspoon of fennel seeds for extra flavor.
Remove the cinnamon stick.
Chill and serve cool or at room temperature.
6. Salad

Photo from www.countryliving.com
Ingredients Needed:
4 tablespoons butter
1 tablespoon chives
1 tablespoon parley
1 teaspoon pepper
1/2 teaspoon salt
2 tablespoons olive oil
2 bunches asparagus
1 cup fresh peas
2 cloves garlic
1 cup grape tomatoes
First, combine the butter, chives, parsley, pepper and salt in a bowl to make herb butter.
Wrap the herb butter with plastic wrap and roll in to a log. Refrigerate for at least an hour.
Heat the olive oil on medium-high.
Add asparagus and saute for five minutes.
Add peas and garlic. Continue to saute for another eight minutes, until peas and asparagus are tender.
Add tomatoes, saute for another two minutes.
Serve warm with slices of herb butter.
5. Pumpkin Cake
Ingredients Needed:
1 package (approximately 18 ounces) spice cake mix
1 can (15 ounces) pumpkin
Preheat oven to 350 degrees Fahrenheit.
Mix the cake mix and can of pumpkin.
Back for 25 to 30 minute.
Chill.
Add icing as desired.
4. Sweet Potatoes
Ingredients Needed:
4 teaspoons butter
4 pounds sweet potatoes
1 teaspoon ground ginger
1 teaspoon nutmeg
1 teaspoon salt
6 tablespoons brown sugar
8 ounces pecan pieces
Preheat over to 350 degrees Fahrenheit.
Malt butter on a baking sheet.
Peel sweet potatoes and cut in to bite-sized pieces.
Add the remaining ingredients to the sweet potatoes, toss to combine.
Roast in the over for 45 minutes.
3. Carrots
Ingredients Needed:
2 tablespoons olive oil
2 large garlic cloves
1 tablespoon sugar
1 teaspoon cumin
1/2 teaspoon salt
1/2 teaspoon cinnamon
2 pounds carrots
1/4 cup white raisins
1/4 cup parsley or cilantro
1 lemon
Preheat oven to 400 degrees Fahrenheit.
If using large carrots, cut in to bite-sized pieces.
Mince garlic, chop parsley/cilantro, juice lemon.
Combine oil, garlic, sugar, cumin, salt, cinnamon and carrots. Roast in the oven for 20 minutes.
Remove from oven. Add raisins, lemon juice and parsley.
2. Corn Bread
Ingredients Needed:
1 1/2 cups cornmeal
2 1/2 cups milk
2 cups flour
1 tablespoon baking powder
1 teaspoon salt
2/3 cup sugar
2 eggs
1/2 cup vegetable oil
Preheat oven to 400 degrees Fahrenheit.
Combine cornmeal and milk, let stand for five minutes.
Whisk the flour, baking powder, salt and sugar in a large bowl.
Mix the cornmeal mixture, eggs and oil in to the large bowl.
Pour in to a baking pan, and back for 30 to 35 minutes.
1. Turkey
Ingredients Needed:
1 turkey
3/4 cup olive oil
2 tablespoons garlic powder
2 teaspoons basil
1 teaspoon ground sage
1 teaspoon salt
1/2 teaspoon black pepper
2 cups water
Preheat oven to 325 degrees Fahrenheit.
Clean turkey.
Combine olive oil, garlic powder, basil, ground sage, salt and pepper in a bowl.
Apply mixture with a basting brush to the outside of the turkey.
Pour water in to the bottom of the roasting pan.
Bake until turkey is cooked (15 minutes per pound).