Official Grammy Award Trophies. Photo from wmur.com
By Rebecca Brooks
Staff Writer
It's that time of the year again! Awards season has been upon us since the beginning of 2016, but this Monday is my personal favorite part of the season: the Grammys!
There are a lot of awards at the Grammys (83 to be exact), though about 85 percent of them don't get announced during the actual award show, and only an actual select few are focused on and highly -coveted. I have my own favorites who I hope will win, though I know that my thoughts do not always match up with the media.
While only focusing on three of the myriad of awards that the Grammys give out, here is my list of who I think should win, versus who will most likely win:
Best Pop Vocal Album
Who I Think Should Win: Florence + The Machine's "How Big, How Blue, How Beautiful"
I am a MASSIVE fan of Florence + The Machine, and actually plan on seeing them in concert in June. I was beyond excited for their new album to come out last year, and every single song is amazing. Florence Welch's voice is phenomenal and she exhibits a rare breed of talent mixed with passion. They are nominated for five Grammys this year, and I will be very upset if they don't win at least one.
Who Will Most Likely Win: Taylor Swift's "1989"
Taylor Swift is everywhere, and this album made her blow up even more. Every single and music video off this album has been a YouTube hit and radio success, and she has already won a ton of other Grammys. I won't be surprised if she wins this one too.
Best Rock Performance
Who I Think Should Win: Foo Fighters' "Something From Nothing"
When Foo Fighter's "Sonic Highways" album dropped in 2014 and I instantly fell in love with it, I was waiting for the 2016 Grammys to be announced just to watch them (hopefully) get nominated. "Something From Nothing" is the first song off the album, and it immediately grabbed my attention. I've been hooked ever since.
Who Will Most Likely Win: Elle Kings' "Ex's and Oh's"
I don't even know why this song is under the rock category. It's the furthest thing from rock, as I'm sure others noticed, and definitely should be in more of a pop category. Just because I'm confused by this nomination alone, I think that it will probably win instead.
Record of the Year
Who I Think Should Win: Mark Ronson and Bruno Mars' "Uptown Funk"
I had heard everyone talking about this song for the longest time before I actually listened to it, and then I regretted waiting so long to do so. It brings me back to the sound of the music my parents grew up listening to, and Bruno Mars was the perfect fit for the vocals.
Who Will Most Likely Win: Mark Ronson and Bruno Mars' "Uptown Funk"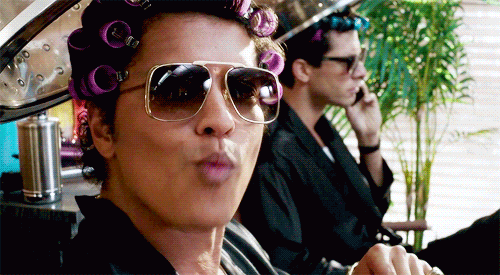 This is one award I am actually confident in my prediction. That song was EVERYWHERE last year, and was #1 for so long that I will be shocked if this doesn't win. Though "Blank Space" is in the same category and the music video has over 1 billion views, the song itself was nowhere near as huge as Uptown Funk.
_____________________________________________________________________________________
No matter who I think will and won't win, I will still be watching the Grammys in full Monday night. Will you?