Photo from musicology-online.co.uk
By Joe Goncalves
Staff Writer
Asking Alexandria has been through a lot as a band in the past few years.
With the major lineup change, many fans were initially unsure of the release of "The Black."
Fortunately, many will not be disappointed as it feels like a more appropriate follow up to Asking Alexandria's 2011 record, "Reckless and Relentless."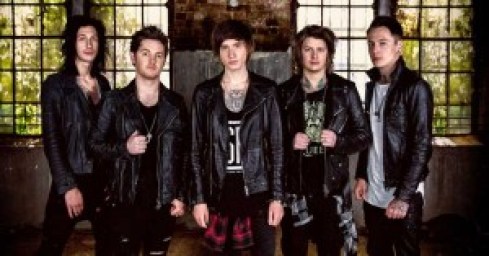 On the band's third full length release, "From Death to Destiny," the band opted for a more classic rock feel to a lot of their songs.
In many ways, they ended up losing their aggressive edge they had become famous for. Part of this was due to disputes within the band involving former vocalist Danny Worsnop.
With Worsnop's departure, many were unsure who would fill his shoes. After months of speculation, the band released the single "I Won't Give In," displaying their new frontman, Dennis Stoff, formerly of the Ukrainian metal outfit, Make Me Famous.
What we got out of this new group is a back to their roots approach, while still moving forward in interesting new ways.
This album has a bit of both sides of the sound Asking Alexandria has been building up over the years.
Those leaning towards the aggressive and heavy side of the band are going to love the tracks "Let It Sleep," "Just A Slave To Rock and Roll," and "Circled By The Wolves."
Those who are looking for the more melodic side of the group will enjoy "Gone," and the stadium anthem "Send Me Home."
The group retains the heavier sound they used to be known for, while experimenting with a darker tone and more serious lyrical content.
Dennis Stoff has some big shoes to fill as their fans had become attached to the member's personality and found Worsnop to be too essential to their sound.
However, Stoff made a lot of these naysayers eat their words on this record by showing off his impressive vocal range with his shrieking high screams and guttural growls. He performed beautifully on the melodic tracks on the album.
Possibly even more importantly than this is his ability to step into an established band without invoking the feeling that he was trying to emulate a past singer.
His inclusion in the band changed their song writing process and felt like a fresh but natural progression for the long established group.
The instrumentals on the album are a more polished and technically advanced version of what we saw on their second record, "Reckless and Relentless." Most of the songs retained their rhythm focused mean sound with some added technicality in riffs and fast drum work.
One area where the album suffered in a small way is the production. During the majority of the record everything sounds crisp and clear with a huge sound, but during some heavier sections, things began to sound muffled, though this was only for a small handful of sections on the record.
What we've seen with "The Black" seems like a revival of a band that seemed on the verge of losing their momentum in the industry.
It set up the record with, "Here's what you might've seen already, so get ready for what's in store," and signs off in the most appropriate way with the last line of the last track, "Circled By The Wolves," being, "Who the f*** are you to say we're done for?"