Photo from sportscanyon.com
By Hunter Frederick
News Editor
On Friday, March 16, I was coming home from a dinner with friends and happened to see a tweet. Someone was asking about UMBC, which stands for the University of Maryland– Baltimore County. About 20 minutes later, countless others and I watched one of the biggest upsets in college basketball history. The UMBC Golden Retrievers beat the Virginia Cavaliers 74 to 54.
Some context and disclaimers before we dive in. I am, at best, a passive sports fans. I check scores via Google more than I tune in to games, and out of all sports, I probably watch basketball the least. That being said, I sat entranced in the kitchen of my house while my parents slept watching the UMBC-Virginia game. Silently whisper-cheering them on, I watched as UMBC rolled over Virginia. I hopped online and participated in the Tweet-storm that only grew stronger as time went on, and UMBC's lead solidified. It took until after the game for me to realize the gravity of what happened, and I am still working to understand it fully.
To my knowledge, this is why this game was so special.
For the NCAA tournament, aka March Madness, there are four divisions: South, East, West, and Midwest. UBMC was seeded (ranked) 16th, or last in the Southern bracket. Virginia was ranked number 1, overall. That means they were expected to win the whole tournament. People that get in on the bracket betting action might be feeling especially confused. Some applaud the triumphant underdogs while other are upset. Their chances at a perfect bracket are busted.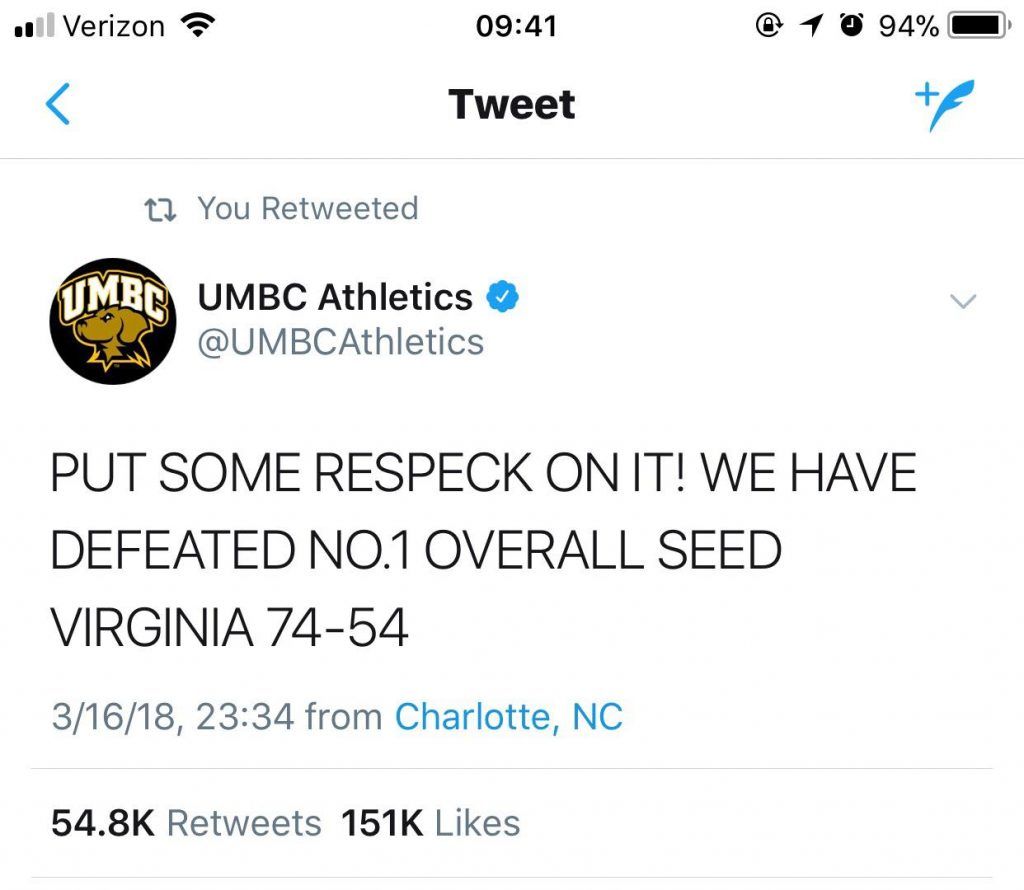 Most of the reason I tuned in lies in where UMBC is coming from: they play in the same conference as the Seawolves. Stony Brook beat UMBC only about a month ago with a score of 64 to 57. Two months ago, they lost 83 to 39 against UAlbany. The game that sent them to the big dance was a nail-biter against Vermont: UMBC pulled ahead with a buzzer-beating three-pointer from Jairus Lyles.
Then game the game versus Virginia, a 31-2 team. Admittedly, I missed the first half of the game. It was tied 21-21 at the half, which is likely a closer than game that most people were expecting. The second half, which I did see, saw UMBC skillfully create a lead, and grow it to a shocking 20-point difference by the end of the game. The largest lead the Virginia Cavaliers had all game was by points. Jairus Lyles, the very same player whose three-pointer sent the Retrievers to the tournament, scored 28 points for UMBC, almost double the most scored by any Virginia player.
According to ESPN, this is the first time a #16 seed has beaten a #1 seed in the men's NCAA tournament. The true first was the 16-seed 1998 women's basketball team of Harvard, who beat Stanford that year 71-67. It was a sight to see, and even though I watched the game alone, near-silent in kitchen, it still felt electrifying. I think I am going to have to start watching basketball more often.
The next UMBC game is versus the No. 9 Kansas State Wildcats on Sunday, March 18th at 7:45pm on truTV.