By JD Allen
Managing Editor
The Staller Center Theatre 2 stage lights focus in on Samuel Kellman who steps forward, stage right of his in-show bride. In this scene, George Tesman tries to console Hedda, played by Paige Borak, in their new expensive, Chicago home in September 1929. The newlyweds cannot pay the bills — much like the Stony Brook University students playing them.
Kellmen is a business major at the university. He grew up entranced by film, and later by acting. Since being at Stony Brook, he has been in many productions, including "Alice Unravelled" (The Cheshire Cat) and "The Mystery of Edwin Drood" (Bazzard). Yet, he remains unhappy as a business major, he said, bored by the classes and worried about his future. He suffers from Crohn's disease.
"I don't know what health complications I might have in my future — I need to know I will have the money to do what I have to do," Kellmen said. In Tesman's words, he's "been living in a world of illusion! All of our dreams, built on quicksand."
According to the Office of Institutional Research, Planning & Effectiveness, Stony Brook University has more than 25,000 students and 2,500 faculty members — most focusing on the STEM studies — placing itself among the top 62 research institutions in North American. The world-renown STEM leader, or one that focuses on science, technology, engineering and mathematics, is one of only 10 universities nationwide recognized by the National Science Foundation for its combination of research and undergraduate education. The Arts, especially theatre arts, falls by the wayside, ranking lower than the top 85 in the U.S., according to national reports. This is in part, Kellman said, because students like him feel disenfranchised while studying the arts — despite being unequivocally supported by the art's faculty.
So, why do students bother with the arts when the university's mindset is STEM?
A Role Like No Other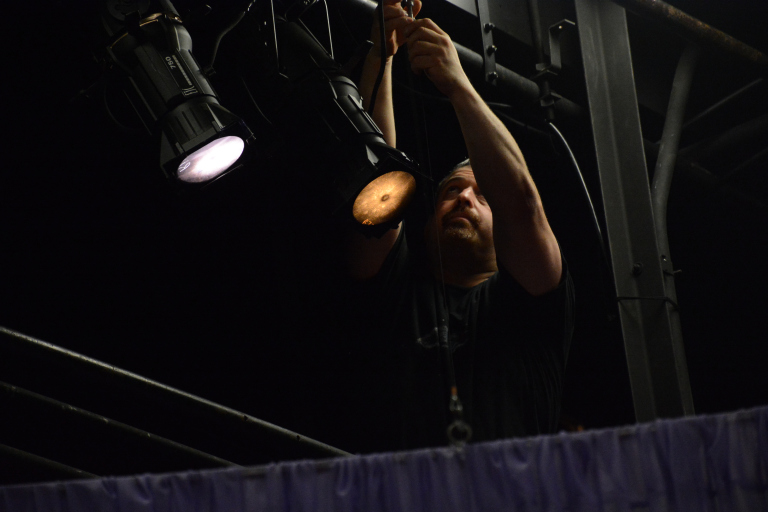 Stony Brook University Theater Department's production of "Hedda Gabler" did not follow the play's original Norwegian story line. Director Michael Zelenak provided a new translation of the play, written for the Staller Center stage, dropping the seven characters into a tragedy during early twentieth century America, the decline of the flapper girls and the beginning of the Great Depression. The single set was in a fashionable living room of a luxurious home, complete with lavender walls, Hedda's jazzy phonograph and a central cigar lounge foyer. All of which — lighting, costumes, makeup, set — was designed and maintained by students, with some help by the Staller faculty.
The play ran from Oct. 8 to 11, and again Oct. 15 to 18., and the audience relished the strong female lead role, Hedda.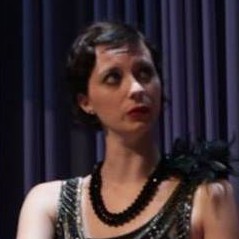 "Every man aspires to be Hamlet, and every actress aspires to be Hedda Gabler," Paige Borak said. The funny thing is Borak almost didn't audition for the role, she added. She tried out on a whim and got the role of Hedda — capturing her "Gothic, yet romantic character trapped in this place" of boredom, Borak said, would be complicated. Borak would be the umpteenth actress to play Henrik Ibsen's "Hedda Gabler." The 1890 play was the "climax of Ibsen's career and for western theater history," Zelenak writes in the program on the 125th anniversary of the play. The original production was met with scorn and abuse from the politically-correct idealists "who demanded that all art should reflect their own moral values," he added. Concurrently to Zelenak's translation of the play — one that focused in part on the plight of women in the 1920s who longed for a new world of equality and freedom — Borak longed for the role to be her zeal. "I wanted to make Hedda real to the audience," Borak said.
Borak, a senior studying theater arts and psychology, has been around a stage all her life. At the age of seven, after seeing an ad in the newspaper for "Summer Stock," a traveling theater troupe, she toured rural Ohio for five years during her summer break. The Kent State University troupe inspired Borak to pursue the arts during high school, but when it came time to apply for colleges she thought otherwise.
"I thought I better do things that are reasonable, and apparently the theatre was not one of them," Borak said. "I tried to cut out theatre altogether."
She came to Stony Brook University as a psychology major. But after playing many roles —  Lula ("Dutchman"), Lavinia ("Titus Andronicus"), Annabel ("Bike America"), Abigail Williams ("The Crucible"), Lady Macbeth ("Macbeth"), Antigone ("The Antigone Project") — quickly learned that a big piece of her own character missing. "If I get to go to class every day and do this, what I love, than I am a happy camper," Borak said.
Since being at Stony Brook University, Borak has become the president of the Pocket Theatre Club, an improv troupe that accepts all majors to participate in their productions.
Liam Wallace (Eilert Lovborg) is a member of Pocket Theatre as well. Raised in Virginia, Wallace was attracted to the arts at a young age, inspired by his mother who took him to see many shows at the Blackfriars Playhouse in Staunton, Virginia. Though it was a blank stage and used simplistic costumes, Wallace said it was "amazing how the characters just came alive on stage."
Before acting on the Staller stage, he studied philosophy at St. John's College in Annapolis, Maryland. And like Kellman, Wallace came to Stony Brook University looking to enroll in a program that would set him on a track for financial success — but hated it. "I was so unhappy doing pre-med," Wallace said. "I was reading all these books about doctors and it all felt unbearable that I would be stretching my life out into their experiences."
After he performed in a Long Island-based theatre company Midnight Theatre Oasis' production of "A Midsummer Night's Dream,"  Wallace added that "it was like falling in love for the first time, again." Wallace said it gave him a purpose, especially when he performs with Pocket Theatre.
"It was great to feel something real and emotional — even if it is recreational," he added. 
A Standing Ovation for the Cast and Crew
Wallace's character Eilert Lovborg is a cunning fellow. Once a love interest of Hedda and up until recently an alcoholic, Lovborg struts confidently in to her home, without a vindictive bone to pick with her new husband, George Tesman, his longtime rival. But as Wallace moves across the stage, the other characters cross and move in relation to each other. This, Co-Director Deborah Mayo, said is intentional as each character is tethered to one another through a profound relationship.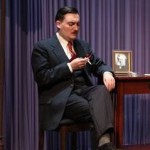 Zelenak's translation does not directly say it, but each character is bound to the other's history and every scene has a ménages à trois correlation.
Judge Brack, a wealthy and powerful politician played by Colin Palmer, who first saw the play in his senior year of high school as a graduation present from his parents, suggests a "triangular relationship" with the newlyweds to best fulfill their needs — a professional companion of George Tesman and a seductive conversationalist with Hedda.
This correlation does not have to be sexual but it does influence how the characters act in the scene.
"This is where an actor's talent comes in," Mayo, the director of the undergraduate program, said. Actors need to be good listeners, on and off stage, she added. They need to pay attention to their surroundings and each others' body language. "A friend of mine used to keep a pin in his pocket to sharpen his focus back on to the stage," Mayo said. "It is not a strategy I would necessarily recommend, but his head was in the right place. We need to stay aware."
Created with Padlet

This heightened social awareness helps build community, Wallace said. It helps the cast and crew connect and work together to put on something beautiful, he added.
Off the Stage, Into a Class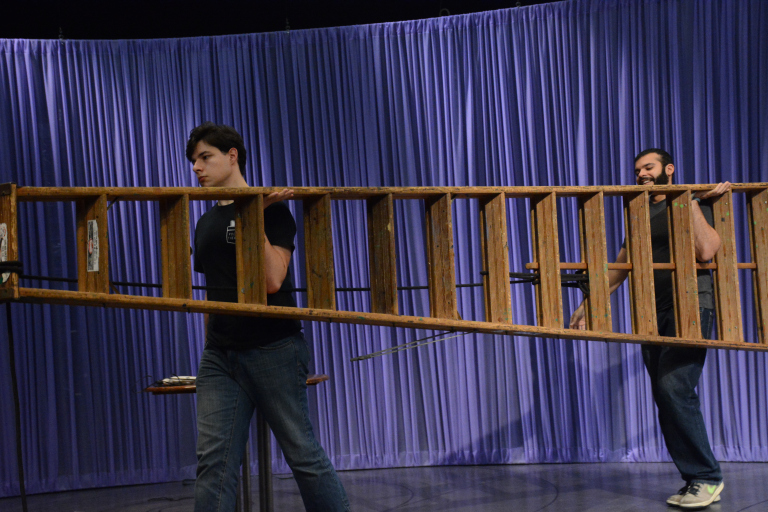 Since the space race of the 1960s, STEM education has been arguably the focus of the American education system. Over the last 50 years, there have been more advancements in STEM-related fields in the U.S. than in the previous two centuries combined. But STEM has its place on stage. According to Christopher Herzog, associate professor at the C.N. Yang Institute for Theoretical Physics at Stony Brook, by bringing science and theatre together, new ways of teaching, learning and thinking can be developed. "Science plays are an excellent tool for explaining difficult concepts… [it goes] beyond the bounds of their normal ways of thinking, spark their imagination and synthesize a new experience for all," Herzog said.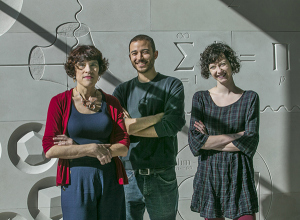 Herzog is the creator of the annual Science Playwriting Competition, hosted by the Stony Brook University's Simons Center for Geometry and Physics, C. N. Yang Institute for Theoretical Physics, and Department of Theatre Arts. The winning entries, submitted by university faculty, current and former students, are inspired by the lives of real people and common pop-culture references.
The competition, and his mantra he said, was inspired by Dudley Herschbach, 1986 Nobel Prize winner in chemistry. When studying STEM, it is often a "hard ladder climb," requiring a student to learn all the basics, he said. And "some of those basics turn out to be not so basic," he added. But when working in the arts and humanities, there can be less of a ladder climb. This does not mean that there is not fierce competition, Herzog said, but "it can feel more like skating around some vast, even plane of knowledge."  Once the landscape flattens out for scientists, creativity and self-expression become just as important as they always were in the arts and humanities.
University education becomes more about a well-rounded education, rather than major-intensive curriculum — an idea originally held by liberal arts colleges. Some even promote the STEM education model to be changed into STEAM, or one that accepts art and design. 
Norman Prusslin, director of the media arts minor, said that all Stony Brook University students are encouraged to take a variety of classes in the arts whenever possible, going above and beyond the university's curriculum requirements. "Studying the arts is closely linked to almost everything my colleagues and I wish for our students: academic achievement, social and emotional development and civic engagement," he said. "Arts education broadens a STEM students' perspective in particular. The arts offer the creativity for self expression, integrate life and learning that are essential in the development of the whole person."
Studying the arts is not supposed to feel like stepping into quicksand but being sucked into creative expression.
Photo credit (thumbnails): SBU Theatre Arts/FACEBOOK