Photo courtesy of Matthew Murphy
By McKenzi Thi Murphy
Incoming Editor-in-Chief 
After over a decade of careful development and refinement, "Hadestown: The Myth. The Musical" officially opened April 17 on Broadway after a successful preview run. The show has run at near-full to standing-room-only capacity at the Walter Kerr Theatre on W 48th Street since opening preview night on April 22. Appropriately, the 900-plus-seat theatre has various depictions of mythological creatures on its historical walls.
Our Ladies of the Underground:
As it stands, this Greek mythology-inspired musical is the only show both directed and written by women this season. Through an enchanting, heartbreaking melding of jazz, folk and blues music, Anaïs Mitchell has gifted audiences with "a tale of a love that never dies." Impressively, Mitchell is the first woman in well over a decade to single-handedly pen the book, music and lyrics of a Broadway show. Both a grand accomplishment and a dismal testament to the lack of female creative representation on Broadway.
Her partner in crime, Rachel Chavkin, has been with the show since 2012 and her stunning direction brings it to a new level. Chavkin had earned a Tony nomination for her direction of "Natasha, Pierre & the Great Comet of 1812" two years prior and will almost certainly receive another.
A World of Gods and Men:
Greek mythology enthusiasts might recognize the characters from their ancient myths, but Mitchell's adaptation gives them new life. Set in a Great Depression-era/post-apocalyptic setting, Hades (Patrick Page) now runs an underground factory and surrounds himself in machinery. His otherworldly vocal range reaches depths previously inconceivable.
Meanwhile, Persephone (Amber Gray), still bound to spend half the year down below, has long since grown weary of her husband's aspirations and drowns her dissatisfaction in spirits and wine. Gray's unbeatable portrayal gives us the disaster alcoholic goddess we've always wanted and her playfully seductive growl transcends the stage.
Both Page and Gray have followed the show through its many productions across the globe and consistently give stand-out performances.
The story focuses on the myth of Orpheus (Reeve Carney) and Eurydice (Eva Noblezada).  In the myth, Eurydice had no agency and simply died from a snake bite on the day of her wedding, but in this story famine and flood threaten her survival and she chooses to go down to Hadestown to stave off hunger. Noblezada gives this version of Eurydice more spunk and bitterness than previous actresses' portrayals and her triumphant vocals in the show's climax are truly magnificent.
As for Orpheus, he is no longer the swaggering and suave man he was before. Instead he is a sweet, simple-minded musician working on crafting a song that can bring the world back into tune. Carney's performance has been heavily criticized in previous runs, and while he still does not quite measure up to his immensely talented castmates, this new characterization proves much more favorable for him.
And what would a myth be without a trickster god to narrate for us? Hermes (André De Shields) remains onstage for nearly the entire two-and-a-half hours, sporting a fabulous silver suit and shoes. Previously singing as a bass and now as a tenor, Hermes has a more cohesive influence on the characters, serving as a morally ambiguous mentor for Orpheus and a confidant to Hades.
Played by Jewelle Blackman, Yvette Gonzales-Nacer and Kay Trinidad, the Fates are absolute perfection. Somehow both malevolent and comedic, often at the same time, the Fates provide the taunting voices of doubt and encouragement for our protagonists. While Hades may be the show's more obvious antagonist and the man in charge, the Fates' chaotic influence prove they are the real puppet masters pulling the show's strings. Quite literally, in the case of the old stories. They deliver arguably the most thought-provoking message to the audience: "You can have your principles when you've got a bellyful. But hunger has a way with you. There's no telling what you're gonna do when the chips are down. Now that the chips are down."
Rounding out the cast are a chorus of workers (Afra Hines, Timothy Hughes, John Krause, Kimberly Marable and Ahmad Simmons) toiling away to build Hades' wall. In the Broadway version, the workers are given their own individualism and we see their realization of what hell has become in real time.
From Concept Album to Broadway:
"Hadestown"'s most well-known beginning came in the form of a concept album back in 2010 and after an additional 15 songs, premiered at New York Theatre Workshop in 2016. The show's live off-Broadway cast recording can be found on most streaming sites, though it has gone through significant changes on the road to Broadway.
In late 2017, the show then opened at the Citadel Theatre in Canada with a mostly-new cast, save for Page and Gray. From there, several of the cast members moved to a West End run at the National Theatre ahead of the Broadway transfer.
And while the Fates insist that "Nothing Changes," "Hadestown" has undergone major renovations even from previews to the official opening. Now there is a more cogent plot to anchor the characters, and the love between Orpheus and Eurydice has more development.
But while most of the lyrical changes are understandable, fans on social media all widely agree the removal of Persephone's verse in "Chant II" is a crime against humanity. The now-dead lyrics had Persephone delivering a cautionary tale of love to Eurydice as a foil to Hades' to Orpheus. An equally devastating loss was the accompanying parallel choreography of the older lovers that showcased the full potential of the stage's turntables.
Why We Build the Wall: Politics and Broadway:
As the closing number of Act I, the cast sings a chilling chant to the purposes of Hades' infamous wall. While it may seem like a blatant analogy to Trump's obsession with building a wall at the Mexican border, "Why We Build the Wall" has existed well before the 2016 election.
In an interview, Mitchell said, "The idea of a wall is a mythic idea." And while the political timing of such a song could not have been better planned, the wall as a symbol of class boundaries is a common occurrence in history.
Since the NYTW production, the show's environmental nod has also grown stronger. Up on top, the planet is in seasonal turmoil and the people near starvation when Persephone leaves for Hadestown each winter. She laments that the plight of humanity and the desecration of her planet "ain't right and it ain't natural."
Of Lighting and Set Design:
So often doing a thankless job, Broadway's technical production teams are usually overshadowed by performers and directors, particularly during the Tony Awards where many of those award presentations are not even televised.
However, there is no forgetting "Hadestown"'s magnificent set and lighting design, created by Rachel Hauck and Bradley King respectively. The two creators worked in tandem to put together the most magnificent musical number I have ever seen in the history of my extensive Broadway experience. As Orpheus journeys down into Hadestown, the 1920-esque speakeasy set splits open to reveal steampunk factory pipes and industrial lighting. It must be seen live to be believed.
Seating Choices and Final Thoughts:
Full disclosure: I have seen this show four times and have tickets to see it twice more. The beauty of the Walter Kerr Theatre is that there is almost no bad seat in the house. Except the balcony. Don't sit in the balcony. It is built so high that the seats are level with the very top of the stage's frame. But for orchestra and mezzanine, even seats on the very ends of the rows get a non-obstructed view. Furthermore, the mezzanine is at such a steep incline even back-row seats are not blocked by the row in front of them. I recommend center-to-front mezzanine for the best experience.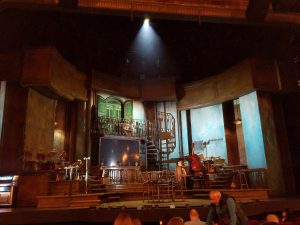 Anaïs Mitchell and Rachel Chavkin have outdone themselves with "an old tale from way back when." And with the successful ticket sales and positive reviews, it is likely the cast will continue to "sing it again and again and again."