By Trevor Christian
Shawn Heilbron, the Oregon State University senior associate athletic director, was appointed the director of athletics for Stony Brook University on Thursday nearly six months after the departure of Jim Fiore.
The appointment comes at a time of success for the athletic department, which has seen many of its teams win or play for conference championships, including softball, women's lacrosse and both men's and women's basketball. In 2012, the baseball team reached the College World Series and runner Lucy Van Dalen represented New Zealand in the Olympics.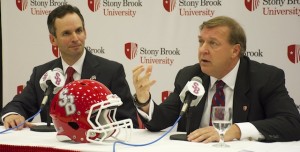 Heilbron said one of his primary goals was to raise the profile of the university. 
"You might not know what a Seawolf is now but you will," Heilbron said to an audience that included journalists and student athletes.
University President Samuel L. Stanley, Jr., welcomed Heilbron at a press conference on Friday in the Stony Brook Arena, which is set to open later this year. For Stanley a stronger athletic program means increased publicity that is critical to improving Stony Brook, even as an academic institution.
"We have outstanding academic programs, but that doesn't always resonate with students," Stanley said referring to potential recruits for the university. "But sports is universal. Everybody knows what's happening in sports."
According to Davonte Anderson, a football player and member of the search committee, Heilbron distinguished himself from a list of candidates that included Interim Director Donna Woodruff.
"I could tell his energy and his passion," Anderson said after reading Heilbron's writing on why he wanted the job. "As a young student athlete, I want a leader like that."
Woodruff said she supported the decision. She agreed with Heilbron when he said developing the football team has to be a main focus.
"When you have a program that has a quarter of your athletes in it," Woodruff said, "it has to be at the forefront."
"Football has a way of building community support and university support unlike any other sport," said Senior Associate Director of Athletics Matt Larsen.
Larsen said that Heilbron would help to continue the program's momentum; something he said hadn't been lost even after the confusion surrounding Fiore's departure.
"One of the things about athletics is you have to be resilient," Larsen said. "The games go on."
Part of Heilbron's appeal was his experience in both financial management and courting donors, something Stanely pointed out during the press conference. Dexter A. Bailey, Jr., the vice president for university advancement, said that private donations are critical to Stony Brook's success.
"It's the increment between being good and being excellent," Bailey said.
Bailey explained that donations could help with retaining talent like Beth O'Boyle, the former women's basketball coach who recently left for Virginia Commonwealth.
"Sometimes that's salary, sometimes that's being able to add an additional assistant coach and sometimes that might be a practice facility," said Bailey.
Heilbron acknowledged that he was leaving "an amazing place" in Oregon State but said that Stony Brook's potential for growth was exciting enough for him to make the switch to a smaller school.
"I want to win conference championships; I want to win in everything that we do," he said. "Everything is in place to achieve success."