By JD Allen
News Editor
Folks, can't you feel that spring is in the air? Well, at least the spring semester — right now we are all freezing our Seawolf tails off.
But have no fear, Wolfie brought some exciting changes to this semester — kind of. At least we have a pool now. No wait, still don't have a pool. Well, at least we have affordable dining. No wait, still don't have that either.
Oh, oh, I know — at least we can all live together here along Circle Road at Stony Brook University where no student is turned down a bed. People are still coming in from Brookhaven?
Wolfie…
5 wanna-be changes Stony Brook University has to offer for the Spring of 2015, coming at you:
1. New Dorms
Okay, okay. I know the university has been working on getting more dorms for its growing undergraduate student population, but come on Office of Student Affairs. Don't park it behind the beautiful Charles B. Wang Center of all places. Every day Jasmine-eatery diners have to look at an ugly, unproductive hole in the ground while they chow down on their $9.54 Beef Teppanyaki.
And when exactly is it going to be finished? When all of the Brookhaven residents graduate?
2. $5 Meals
I mean not every meal on campus costs a ten-spot from your pocket. Campus Dining was nice enough to drop the prices on some select food choices on campus such as chicken fingers and fries or a BLT sandwich and chips, both of which come with a bottle of water or a medium fountain drink.
Admittedly not the healthiest of options but Kristina Tiernan, Campus Dining's registered dietitian, can not be everywhere at once, folks.
Also, if you are one of the 3,238 plus students who purchased a Bronze plan from Campus Dining last spring, you know it can cost an arm and a leg to get fed around these parts.
(Yes, I just gave the Statesman campus newspaper credit. They do good work — sometimes.)
3. Honest Undergraduate Student Government Employees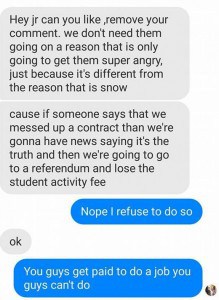 They are honest — honestly inefficient, says university student James Jr. Iannotto in a stellar Sbpress.com article.
The long and short of it is that a USG-promised performance of ska punk band Streetlight Manifesto got cancelled less than a day before tickets were to go on sale because alleged weather problems. According to the article, the cancellation of the concert was "due to a failure by USG to properly prepare the contract for the event."
Oops?
4. Fended off Winter Storm Juno
(I like cats.)
Stony Brook University successfully survived Winter Storm Juno, a.k.a #TheBlizzardof2015, rather gracefully. Through the frigid weather, buses transported frozen undergrads to main campus better than in previous winters. At least this time there was actually a bus…
But seriously, does it seem like there are less buses on campus?
5. This thing.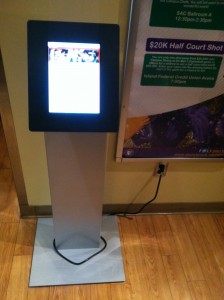 Everyone I ask — students, faculty and dining staff — doesn't seem to know what this thing is. I think it determines my final GPA though.